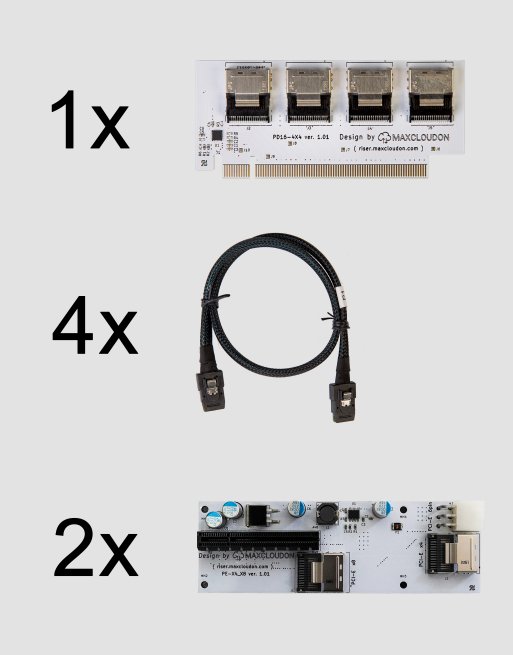  
Bifurcated riser X16 to 2X8 (set with length 2m)
In order to use full functionality, you should have a motherboard that supports active Bifurcation from BIOS settings. There should be an option for setting how the bifurcation will work. (Example: from x16 to 4x4) If you don't have this option active and functional from your motherboards BIOS, you won't be able to use the full functionality of this product.
Supports PCI-e standards 1.0, 1.1, 2.0, 3.0
High quality Solid Capacitors, Voltage Regulation, and Overcurrent Protection to provide reliable and stable performance and long lifespan. Ideal for 24/7 non-stop working environment
Gold plated contacts for flawless connectivity and long lifespan.
High quality clock generator for stable work
4 Mount holes for attaching the Extender card to different surfaces
6-pin PCI-e power for each Extender Card
Color: White
Transparent device, works with all operating systems and NO drivers are required.
Supported OS: Windows 7/8/10/; Windows server 2016/2019; Linux; FreeBSD; All unlisted OS are also supported.
This pack of PCI Express Bifurcation riser contains:
1 x Riser Daughterboard PD Type-PD16-4x4 - Size: 111mm x 49mm x 10mm
2 x Riser Extender Card PE Type-PE-X4_X8 - Size: 135mm x 44mm x 14mm
4 x Riser cable RC Type-RC200-X4 - Length: 194cm (76.37") from end of plug to end of plug - 200cm (78.74") with plugs (+/- 2%)
* - Disclaimer: Product images are for illustrative purposes only and may slightly differ from the actual product.
Aktuell keine Kunden-Kommentare